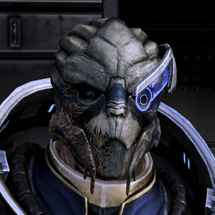 "Fighting a rogue Spectre with countless lives at stake and no regulations to get in the way? I'd say that beats C-Sec."
Garrus Vakarian is a turian, formerly with C-Sec's Investigation Division. Like most turians, Garrus had military training at fifteen, but later followed in his father's footsteps to become a C-Sec officer. He was responsible for the investigation of Saren Arterius, the Council's top Spectre, after the Alliance claimed he'd gone rogue. Though Garrus was told the investigation was over, he decided to defy the Executor's order and pursue another lead on his own. Eventually, Garrus joined Shepard's team, to help the commander to defeat Saren and his geth.
Garrus Vakarian is voiced by Brandon Keener
Mass Effect
Edit
Ad blocker interference detected!
Wikia is a free-to-use site that makes money from advertising. We have a modified experience for viewers using ad blockers

Wikia is not accessible if you've made further modifications. Remove the custom ad blocker rule(s) and the page will load as expected.